Search Help
Information about how to search for space life sciences publications and Space Flight/Mission Searching is given below. Each of the NLM search systems has online help that provides detailed search guidance and explanations of their individual special features.
As outlined under News, the SPACELINE Project ceased operations in the fall of 2005. This project added bibliographic records and supplemental data to PubMed and other NLM databases from 1993 to 2005 to create comprehensive coverage of the space life sciences. Extra bibliographic citations and supplemental Space Flight Mission and NASA keyword data have not been added by the SPACELINE Project since October 2005. Since that time, NLM has continued and continues to add to space life sciences journal and monographic citations as part of its regular data collection and indexing activities. Searching NLM databases for space life sciences citations, as outlined in these pages, therefore will have varying results depending on whether citations were published before or after October 2005.
Examples of the changes are as follows. Journals such as the Journal of Gravitational Physiology, Gravitational and Space Biology Bulletin, Advances in Space Research, Acta Astronautica, Habitation, and Space Medicine and Medical Engineering are no longer covered in PubMed. Some of these journals may be indexed by NLM at some point in the future. Searching using the Space Flight Mission field will only be successful for publications published up until the fall of 2005. NLM continues to provide the Space Life Sciences Subset based on a stored search strategy but since coverage of non-NLM journals such as those listed above and tagging of NLM citations by the SPACELINE Project is no longer done, coverage is less comprehensive than before October 2005.
How To Search
Journal Articles and Space Life Sciences Subset
PubMed searches MEDLINE, the preeminent database of biomedical and life sciences journal article records created, indexed (NLM's MeSH terms added), and maintained by NLM. MEDLINE includes records created and indexed by specialty producers such as the SPACELINE Project. In addition, PubMed searches OLD MEDLINE (records of pre-1966 publications) plus records supplied by journal publishers that do not have NLM's MeSH terms added.
A Space Life Sciences subset is available for searching via Space Life Sciences Subset in PubMed or the "Limits" feature of PubMed. This capacity limits searches to finding records related only to the space life sciences. The PubMed subset searches all available PubMed records to find those records most relevant to the space life sciences. The advantage is that fewer irrelevant records are retrieved. Some searchers may prefer the broader approach of not using the limit and searching everything in PubMed, or moving into and out of the subset as the need dictates (see below). A Space Life Sciences subset limit is also available in Gateway.


Turn off the Space Life Sciences Subset limit by clicking the box and removing the check mark on the box that appears next to "Limits" following a search.
Other features of PubMed include web links to articles at journal publisher sites; the ability to store, regularly run, and sort searches; a Related Articles feature; and the capability to link from web pages directly to PubMed records.
Books, Book Chapters, Technical Reports, Meeting Papers
Publications of these types are available in NLM's NLM Catalog system.
Meeting Abstracts
Approximately 900 meeting abstracts (prior to 2001) from the former SPACELINE database can be found by searching Gateway. (Meeting abstracts refers to abstracts submitted for presentation at scientific conferences and typically published as a journal supplement or meeting proceedings.)
Gateway Provides Comprehensive Searching
Gateway is NLM's comprehensive search interface that provides "one-stop searching" of PubMed, NLM Catalog, MedlinePlus (health information), and other NLM information sources.
Gateway permits all of the different publication types of space-related records to be retrieved with just one search. The search retrieves and displays journal article, NLM Catalog, and meeting abstract records separately. Since some of the searching power and special features of PubMed and NLM Catalog are not available in Gateway, use of those systems may be preferable to obtain maximal search capabilities.
Space Flight/Mission Searching
(Please note that all links to outside sites from this page open in their own browser window)
Space Flight Mission Field Explained
What is SFM?
SFM is a field containing the space flight mission name and/or number when results of research conducted in space are covered in the cited publication. Space Flight Mission spans the time period from 1961 to October 2005. Coverage of flight missions in the 1990s to October 2005 is fairly complete. Coverage of flights in the 1960s-1980s is less complete. 4,144 citations contain a Space Flight Mission field entry.
Why Use SFM Terms?
This field is useful to retrieve publications reporting experiments that have actually flown in space, as well as for retrieving publications about specific space flight missions.
What kinds of space missions are included?
All life sciences space flights and experiments, U.S. and international, fall under the scope of the Space Flight Mission field. In addition to space flights (flights taking place in true space), there are other types of flights that are included in Space Flight Mission. These are Sounding Rocket flights, Parabolic Flight, and Balloon Flight. Sounding rocket flights are short, suborbital flights generating weightless conditions for periods of 6-15 minutes. TEXUS, MAXUS, and MASER are specific sounding rocket names/programs and these are available as SFM values. Parabolic flights are airplane flights that create weightless conditions for periods of less than a minute. NASA's KC-135 is one example of a type of airplane that flies parabolas. Balloon flights at high altitude do not produce the weightless condition of space flight; rather they provide a way of studying cosmic radiation since the shielding effect of Earth's atmosphere is reduced at high altitudes.
Flights have designations in the format STS-40 Shuttle Project, Cosmos 1514 Project, Apollo 13 Project, etc. You can view the list of Space Flight Missions and their associated values: manned/unmanned; short duration/long duration (long duration=flights of 30 days or longer) at http://www.nlm.nih.gov/bsd/space_flight.html.
Sample from the web listing:

This information can be seen in the Display MEDLINE format. The data has the SFM field tag.
Space Flight Mission Search Help
This field can be searched using the Other Term [OT] search tag, which must be enclosed in brackets after the search term. Search terms must match the values found in the Space Flight Mission list (http://www.nlm.nih.gov/bsd/space_flight.html).
For example, to find all publications resulting from the Neurolab STS-90 mission, type the following in the PubMed query box [note that searching is not case-sensitive] and hit the Enter or Return key or click Go:
To find all publications resulting from experiments on the Mir space station, enter: v
To find all publications resulting from long duration space flight missions, enter:
To find all publications containing an SFM value, enter:
Searching SFM with other Search Terms
The space flight search terms may be combined with other search terms.
For example, to search for publications on space flights carrying particular organisms, enter in the PubMed query box:
frogs AND flight experiment [ot]


mice AND sts-42 shuttle project [ot]


Searching SFM using Limits
Space Flight Mission terms may also be combined with the various Limits available in PubMed
(http://www.ncbi.nlm.nih.gov:80/entrez/query.fcgi?CMD=Limits&DB=PubMed). An example is a search for publications covering a particular time period; you would use the Publication Date limit and enter whatever dates you wish to cover.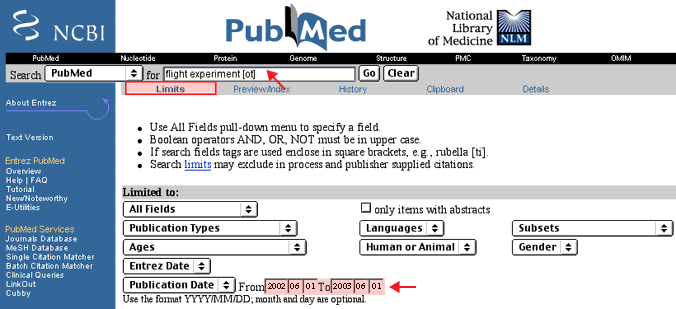 NASA Experiment Number
NASA experiment numbers are unique numbers assigned when an experiment is flown on a U.S. spacecraft and/or when a U.S.-sponsored experiment is flown on an international partner's spacecraft (e.g., Mir space station). The NASA experiment number may be searched on and found in the Other Term [OT] field. NASA experiment numbers are assigned based on information stored in the NASA Life Sciences Data Archive (http://lsda.jsc.nasa.gov/). Searching on NASA experiment numbers permits finding multiple publications deriving from a particular flight experiment. NASA experiment number data are gradually being updated.
The NASA Experiment Number can be seen in the Display MEDLINE format and has the OT field tag. This field can be searched using the Other Term [OT] search tag. Examples: