<< Return to 2004 Archive Index




PubMed's abstract is linked when available and each will open in a new window.



1
de Tombe PP.
Cardiac myofilaments: mechanics and regulation.
J Biomech. 2003 May; 36(5): 721-30. Review.
(PI: D.M. Bers/Biomedical Research and Countermeasures)

2
Sutherland BM, Georgakilas AG, Bennett PV, Laval J, Sutherland JC.
Quantifying clustered DNA damage induction and repair by gel electrophoresis,
electronic imaging and number average length analysis.
Mutat Res. 2003 Oct 29; 531(1-2): 93-107.
(PI: A.M. Gewirtz/Biomedical Research and Countermeasures)

3
Apanasovich TV, Sheather S, Lupton JR, Popovic N, Turner ND, Chapkin RS,
Braby LA, Carroll RJ.
Testing for spatial correlation in nonstationary binary data, with application to
aberrant crypt foci in colon carcinogenesis.
Biometrics. 2003 Dec; 59(4): 752-61.
(PI: J.R. Lupton/Biomedical Research and Countermeasures)

4

Note (#4)
(click to see large)
---
This paper is featured on the cover of the January 2004 issue of Plant Physiology: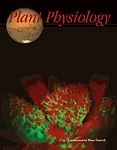 Paul AL, Schuerger AC, Popp MP, Richards JT, Manak MS, Ferl RJ.
Hypobaric biology: Arabidopsis gene expression at low atmospheric pressure.
Plant Physiol. 2004 Jan; 134(1): 215-23. Epub 2003 Dec 30.
(PIs: R.J. Ferl/Fundamental Space Biology and A.C. Schuerger/Advanced Human Support Technology)

5
Jafar-Nejad H, Acar M, Nolo R, Lacin H, Pan H, Parkhurst SM, Bellen HJ.
Senseless acts as a binary switch during sensory organ precursor selection.
Genes Dev. 2003 Dec 1; 17(23): 2966-78.
(PI: H.J. Bellen/Fundamental Space Biology)

6
McNeil PL, Steinhardt RA.
Plasma membrane disruption: repair, prevention, adaptation.
Annu Rev Cell Dev Biol. 2003; 19: 697-731. Review.
(PI: P.L. McNeil/Fundamental Space Biology)

7
Phillips JA, Vacanti CA, Bonassar LJ.
Fibroblasts regulate contractile force independent of MMP activity in
3D-collagen.
Biochem Biophys Res Commun. 2003 Dec 19; 312(3): 725-32.
(PI: J.A. Phillips: Graduate Student Researchers Program/Fundamental Space Biology)

8
Rockman MV, Hahn MW, Soranzo N, Goldstein DB, Wray GA.
Positive selection on a human-specific transcription factor binding site
regulating IL4 expression.
Curr Biol. 2003 Dec 2; 13(23): 2118-23.
(PI: G.A. Wray/Fundamental Space Biology)

9
Goins GD, Yorio NC, Wheeler RM.
Influence of nitrogen nutrition management on biomass partitioning and nitrogen
use efficiency indices in hydroponically grown potato.
J Am Soc Hortic Sci. 2004 Jan; 129(1): 134-40.
(PIs: G.D. Goins and R.M. Wheeler/Advanced Human Support Technology)

10
Pyo YH, Lee TC, Logendra L, Rosen RT.
Antioxidant activity and phenolic compounds of Swiss chard (Beta vulgaris
subspecies cycla) extracts.
Food Chem. 2004 Mar; 85(1): 19-26.
(PI: T.C. Lee/Advanced Human Support Technology)

11
Sutter B, Ming DW, Clearfield A, Hossner LR.
Mineralogical and chemical characterization of iron-, manganese-, and
copper-containing synthetic hydroxyapatites.
Soil Sci Soc Am J. 2003 Nov-Dec; 67(6): 1935-42.
(PI: D.W. Ming/Advanced Human Support Technology)

12
Bershadsky AD, Balaban NQ, Geiger B.
Adhesion-dependent cell mechanosensitivity.
Annu Rev Cell Dev Biol. 2003; 19: 677-95. Review.

13
Klein RF, Allard J, Avnur Z, Nikolcheva T, Rotstein D, Carlos AS, Shea M,
Waters RV, Belknap JK, Peltz G, Orwoll ES.
Regulation of bone mass in mice by the lipoxygenase gene Alox15.
Science. 2004 Jan 9; 303(5655): 229-32.

14
Serova LV.
[Growth, reproductive function, and tolerance to load tests in rats under
repetitive adverse conditions]
Ross Fiziol Zh Im IM Sechenova. 2003 Apr; 89(4): 381-8. Russian.

15
Boerma M, Schutte-Bart CI, Wedekind LE, Beekhuizen H, Wondergem J.
Effects of multiple doses of ionizing radiation on cytokine expression in rat
and human cells.
Int J Radiat Biol. 2003 Nov; 79(11): 889-96.

16
Gohde W, Uthe D, Wedemeyer N, Severin E, Greif K, Schlegel D, Brede HJ,
Kohnlein W.
Mutagenic effect of low energy neutrons on human chromosome 11.
Int J Radiat Biol. 2003 Nov; 79(11): 911-8.

17
Glover D, Little JB, Lavin MF, Gueven N.
Low dose ionizing radiation-induced activation of connexin 43 expression.
Int J Radiat Biol. 2003 Dec; 79(12): 955-64.

18
Yukihara EG, Gaza R, McKeever SW, Soares CG.
Optically stimulated luminescence and thermoluminescence efficiencies for
high-energy heavy charged particle irradiation in Al2O3:C.
Radiat Meas. 2004 Feb; 38(1): 59-70.

19
Blomgren J, Olsson N.
Beyond kerma--neutron data for biomedical applications.
Radiat Prot Dosimetry. 2003; 103(4): 293-304. Review.

20

Note (#20)
---
This issue includes 14 research papers on the radiation environment (galactic cosmic radiation and solar particles) encountered by aircraft crew members and the flying public. To see all the citations from this issue, click PubMed query or copy and paste the following into the PubMed query box:

adv space res [ta] 32[vi] 1[ip]


Space life sciences: structure and dynamics of the global space radiation field at aircraft altitudes.
Adv Space Res. 2003; 32(1): 1-115.
View PubMed page

21
Massion J, Alexandrov A, Frolov A.
Why and how are posture and movement coordinated?
Prog Brain Res. 2004; 143: 13-27. Review.

22

Note (#22)
---
From conclusion: "Our results support the theory that skeletal muscle can regulate bone maintenance..."


Alzghoul MB, Gerrard D, Watkins BA, Hannon K.
Ectopic expression of IGF-I and Shh by skeletal muscle inhibits disuse-mediated skeletal muscle atrophy and bone osteopenia in vivo.
FASEB J. 2004 Jan; 18(1): 221-3. Epub 2003 Nov 03.

23
Kempner ES, Miller JH.
The molecular biology of Euglena gracilis. XV. Recovery from

Note (#23)
---
Euglena centrifuged at 100,000 x g for one hour recover and grow normally.


centrifugation-induced stratification.
Cell Motil Cytoskeleton. 2003 Dec; 56(4): 219-24.

24
Yin DC, Wakayama NI, Inatomi Y, Huang WD, Kuribayashi K.
Strong magnetic field effect on the dissolution process of tetragonal lysozyme
crystals.
Adv Space Res. 2003; 32(2): 217-23.

25
Jiang P, Fu S, Cang H, Wang X, Ren Q, Yuan Y, Meng T, Kang H, Hu J, Chen C,
Yang Z, Bi R.
A Controllable and Observable Protein Cystallization Facility.
Adv Space Res. 2003; 32(2): 243-9.