<< Return to 2003 Archive Index



1
Hoban-Higgins TM, Alpatov AM, Wassmer GT, Rietveld WJ, Fuller CA.
Gravity and light effects on the circadian clock of a desert beetle,
Trigonoscelis gigas.
J Insect Physiol. 2003 Jul;49(7):671-5.
(PI: T.M. Hoban-Higgins)

2
Aviles H, Belay T, Fountain K, Vance M, Sonnenfeld G.
Increased susceptibility to Pseudomonas aeruginosa infection under
hindlimb-unloading conditions.
J Appl Physiol. 2003 Jul;95(1):73-80. Epub 2003 Mar 07.
(PI: G. Sonnenfeld)

3
Convertino VA.
Evidence for altered alpha-adrenoreceptor responsiveness after a single bout of
maximal exercise.
J Appl Physiol. 2003 Jul;95(1):192-8. Epub 2003 Apr 04.
(PI: V.A. Convertino)

4
Bartok C, Atkinson RL, Schoeller DA.
Measurement of nutritional status in simulated microgravity by bioelectrical
impedance spectroscopy.
J Appl Physiol. 2003 Jul;95(1):225-32. Epub 2003 Jan 31.
(PI: D.A. Schoeller)

5
Fritz JS, Arena MP, Steiner SA, Porter MD.
Rapid determination of ions by combined solid-phase extraction--diffuse
reflectance spectroscopy.
J Chromatogr A. 2003 May 16;997(1-2):41-50.
(PI: M.D. Porter)

6
Lawler JM, Song W, Demaree SR.
Hindlimb unloading increases oxidative stress and disrupts antioxidant capacity
in skeletal muscle.
Free Radic Biol Med. 2003 Jul 1;35(1):9-16.
(PI: S.A. Bloomfield)

7
Mao XW, Archambeau JO, Kubinova L, Boyle S, Petersen G, Grove R.
Quantification of rat retinal growth and vascular population changes after
single and split doses of proton irradiation: translational study using
stereology methods.
Radiat Res. 2003 Jul;160(1):5-13.
(PI: G.A. Nelson)

8
Caviness VS Jr, Goto T, Tarui T, Takahashi T, Bhide PG, Nowakowski RS.
Cell output, cell cycle duration and neuronal specification: a model of
integrated mechanisms of the neocortical proliferative process.
Cereb Cortex. 2003 Jun;13(6):592-8.
(PI: R.S. Nowakowski)

9
Strangman G, Franceschini MA, Boas DA.
Factors affecting the accuracy of near-infrared spectroscopy concentration
calculations for focal changes in oxygenation parameters.
Neuroimage. 2003 Apr;18(4):865-79.
(PI: J.P. Sutton)

Note
(click to see large)
---
Image from this paper (#10) appears on the journal cover: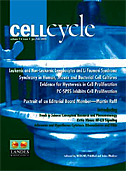 This journal's cover featured a background image of the cell growth apparatus described and shown in this paper. The journal did not include a caption to describe the cover. From the journal Cell Cycle

10
Helmstetter CE, Thornton M, Romero A, Eward LK.
Synchrony in human, mouse and bacterial cell cultures--a comparison.
Cell Cycle. 2003 Jan-Feb;2(1):42-5.
(PIs: C.E. Helmstetter; K.L. Eward: Graduate Student Researcher Program)

11
Lednicky JA, Vilchez RA, Keitel WA, Visnegarwala F, White ZS, Kozinetz CA, Lewis DE, Butel JS.
Polyomavirus JCV excretion and genotype analysis in HIV-infected patients receiving highly active antiretroviral therapy.
AIDS. 2003 Apr 11;17(6):801-7.
(PI: J.S. Butel)

12
Wang S, Morré DM, Morré DJ.
Sera from cancer patients contain two oscillating ECTO-NOX activities with different period lengths.
Cancer Lett. 2003 Feb 20;190(2):135-41.
(PI: D.J. Morré)

13
Yano D, Sato M, Saito C, Sato MH, Morita MT, Tasaka M.
A SNARE complex containing SGR3/AtVAM3 and ZIG/VTI11 in gravity-sensing cells
is important for Arabidopsis shoot gravitropism.
Proc Natl Acad Sci USA. 2003 Jul 8;100(14):8589-94. Epub 2003 Jun 18.

14
Noh B, Bandyopadhyay A, Peer WA, Spalding EP, Murphy AS.
Enhanced gravi- and phototropism in plant mdr mutants mislocalizing the auxin
efflux protein PIN1.
Nature. 2003 Jun 26;424(6943):999-1002.

15
Rohdin M, Petersson J, Sundblad P, Mure M, Glenny RW, Lindahl SG,
Linnarsson D.
Effects of gravity on lung diffusing capacity and cardiac output in prone and
supine humans.
J Appl Physiol. 2003 Jul;95(1):3-10.

16
Hakeman AL, Shepard JL, Sheriff DD.
Augmentation of the push-pull effect by terminal aortic occlusion during
head-down tilt.
J Appl Physiol. 2003 Jul;95(1):159-66.

17
Sheriff DD.
Hypotensive effect of push-pull gravitational stress occurs after autonomic
blockade.
J Appl Physiol. 2003 Jul;95(1):167-71.

18
Zhang LF, Sun B, Cao XS, Liu C, Yu ZB, Zhang LN, Cheng JH, Wu YH, Wu XY.
Effectiveness of intermittent -Gx gravitation in preventing deconditioning due
to simulated microgravity.
J Appl Physiol. 2003 Jul;95(1):207-18.

19
Huang TH, Lin SC, Chang FL, Hsieh SS, Liu SH, Yang RS.
Effects of different exercise modes on mineralization, structure, and
biomechanical properties of growing bone.
J Appl Physiol. 2003 Jul;95(1):300-7. Epub 2003 Feb 28.

20
Skogland S, Stuhr LE, Sundland H, Marstein S, Hope A.
Increased oxygen before and during decompression reduces bubble formation in
rats.
Undersea Hyperb Med. 2003 Spring;30(1):37-46.

21
Lepicard EM, Venault P, Negroni J, Perez-Diaz F, Joubert C, Nosten-Bertrand
M, Berthoz A, Chapouthier G.
Posture and balance responses to a sensory challenge are related to anxiety in
mice.
Psychiatry Res. 2003 Jun 15;118(3):273-84.

22
Cho S, Kim CH, Cubells JF, Zabetian CP, Hwang DY, Kim JW, Cohen BM,
Biaggioni I, Robertson D, Kim KS.
Variations in the dopamine beta-hydroxylase gene are not associated with the
autonomic disorders, pure autonomic failure, or multiple system atrophy.
Am J Med Genet. 2003 Jul 15;120A(2):234-6.

23
Habash J, Boggon TJ, Raftery J, Chayen NE, Zagalsky PF, Helliwell JR.
Apocrustacyanin C(1) crystals grown in space and on earth using
vapour-diffusion geometry: protein structure refinements and electron-density
map comparisons.
Acta Crystallogr D Biol Crystallogr. 2003 Jul;59(Pt 7):1117-23.

24
Perrett CM, Berth-Jones J, Dharma B.
Gravitational erythema.
Br J Dermatol. 2003 Jun;148(6):1267.

25
Cho DS, Hong SH, Nam HG, Soh MS.
FIN5 positively regulates far-red light responses in Arabidopsis thaliana.
Plant Cell Physiol. 2003 Jun;44(6):565-72.

26
Wasmund SL, Smith ML, Takata TS, Joglar JA, Li JM, Kowal RC, Page RL, Hamdan
MH.
Sympathoexcitation is attenuated during low level lower body negative pressure
in subjects who develop pre-syncope.
Clin Auton Res. 2003 Jun;13(3):208-13.

27
Picquet F, Falempin M.
Compared effects of hindlimb unloading versus terrestrial deafferentation on
muscular properties of the rat soleus.
Exp Neurol. 2003 Jul;182(1):186-94.

28
Hamer M, Boutcher YN, Boutcher SH.
The role of cardiopulmonary baroreceptors during the forearm vasodilatation
response to mental stress.
Psychophysiology. 2003 Mar;40(2):249-53.

29
Zhou Q, Tao HW, Poo MM.
Reversal and stabilization of synaptic modifications in a developing visual
system.
Science. 2003 Jun 20;300(5627):1953-7.

30
Game JC, Birrell GW, Brown JA, Shibata T, Baccari C, Chu AM, Williamson MS,
Brown JM.
Use of a genome-wide approach to identify new genes that control resistance of
Saccharomyces cerevisiae to ionizing radiation.
Radiat Res. 2003 Jul;160(1):14-24.

31
Mognato M, Bortoletto E, Ferraro P, Baggio L, Cherubini R, Canova S, Russo
A, Celotti L.
Genetic damage induced by in vitro irradiation of human G(0) lymphocytes with
low-energy protons (28 keV/µm): HPRT mutations and chromosome aberrations.
Radiat Res. 2003 Jul;160(1):52-60.

32
Kumagai J, Masui K, Itagaki Y, Shiotani M, Kodama S, Watanabe M, Miyazaki
T.
Long-lived mutagenic radicals induced in mammalian cells by ionizing radiation
are mainly localized to proteins.
Radiat Res. 2003 Jul;160(1):95-102.

Image of the week
(click to see large)
---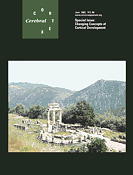 Caption: Delphi was the most important religious and spiritual center of ancient Greece. It was the home of the oracle of the god of light, Apollo. People came from all corners of the then-known world to seek the oracle's wise prophecy. In May 2002, developmental neurobiologists came there to discuss the changing concepts of cortical development. From the journal Cerebral Cortex
33
Tatler BW, Wade NJ.
On nystagmus, saccades, and fixations.
Perception. 2003;32(2):167-84. Review.
34
Martinez-Trujillo JC, Wang H, Crawford JD.
Electrical stimulation of the supplementary eye fields in the head-free macaque evokes kinematically normal gaze shifts.
J Neurophysiol. 2003 Jun;89(6):2961-74. Epub 2003 Feb 05.
35
De-Doncker L, Picquet F, Petit J, Falempin M.
Effects of hypodynamia-hypokinesia on the muscle spindle discharges of rat soleus muscle.
J Neurophysiol. 2003 Jun;89(6):3000-7. Epub 2003 Feb 05.
36
Farrow K, Broussard DM.
Commissural inputs to secondary vestibular neurons in alert cats after canal plugs.
J Neurophysiol. 2003 Jun;89(6):3351-3.
Last Citation